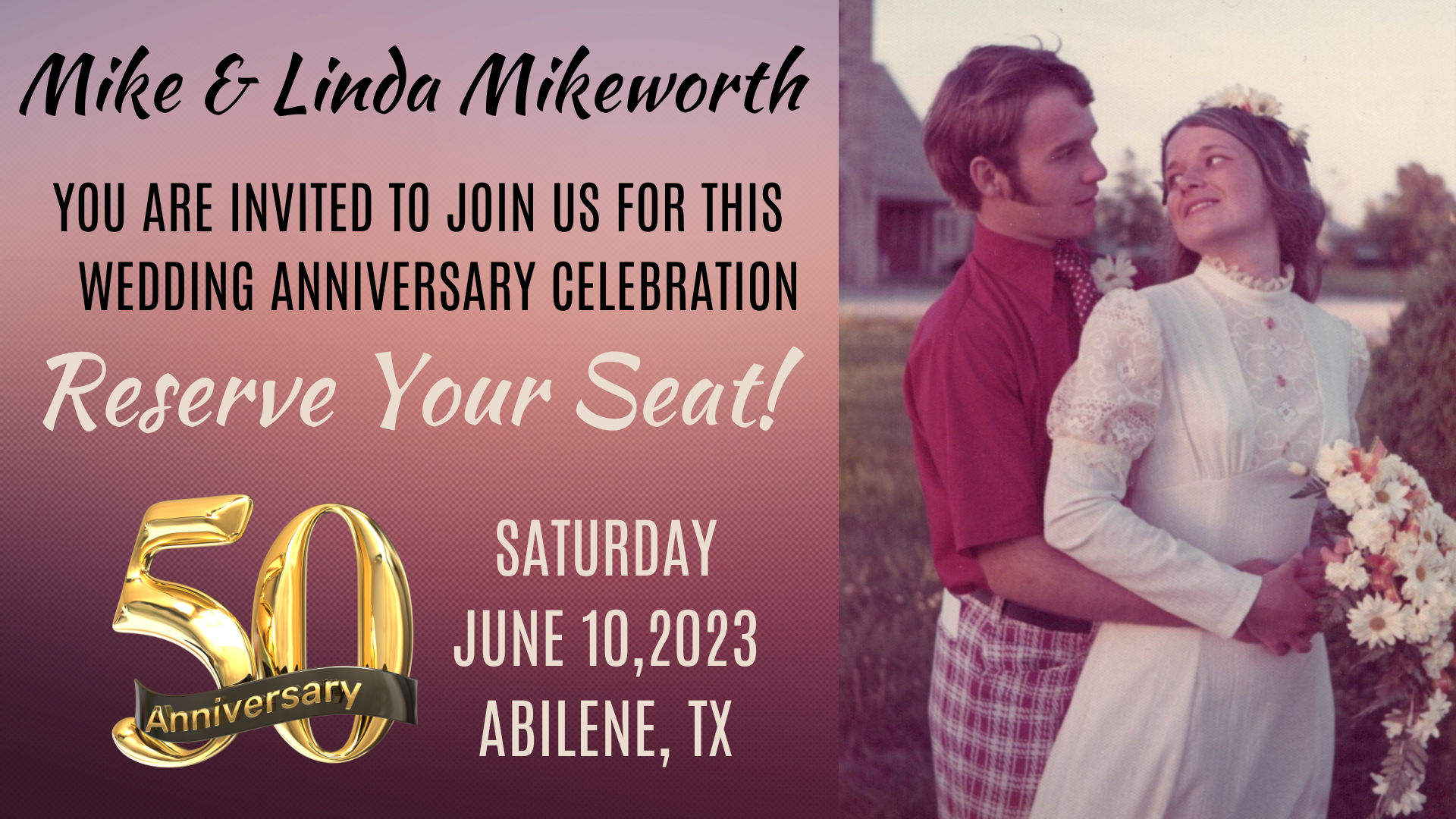 PLEASE RESPOND IF YOU PLAN TO ATTEND
HELP US DETERMINE THE NUMBER OF ATTENDEES FOR PLANNING OUR  CATERING AND VENUE SEATING NEEDS BY COMPLETING THIS SHORT REGISTRATION FORM.
This celebration is intended to be our dedication of gratitude to God for the wealth of relationships Linda and I have enjoyed over our half century of life together. We recognize that many of you will not be able to attend this live event in Abilene; so, we will be offering a LIVE STREAM on Zoom as well. PLEASE JOIN US AS YOU ARE ABLE.
OAK STREET ARBOR
137 Oak Street
Abilene, TX 79602
SATURDAY
JUNE 10, 2023
2:00-6:00PM
2:30PM – 3:00PM
ANNIVERSARY CELEBRATION BAND
 3:00PM – 3:45PM
WEDDING RE-ENACTMENT CEREMONY
3:45PM – 5:00PM
OPEN MIC MEMORIES

5:00PM – 6:00PM
CELEBRATION MEAL

WHAT SHOULD I WEAR?  Anything not fancy – nor formal.  It will be summertime – dress comfortably.
WHAT SHOULD WE BRING?  If you would like to write us a card expressing the meaningfulness of our relationship – we would cherish that.  Don't bring gifts…we are trying to scale down our "stuff".
WHAT SHOULD WE EXPECT?  If you would like to share during Open Mic Memories, you may want to think of a story in our shared past.
CAN WE BRING CHILDREN?  Yes, just register them.